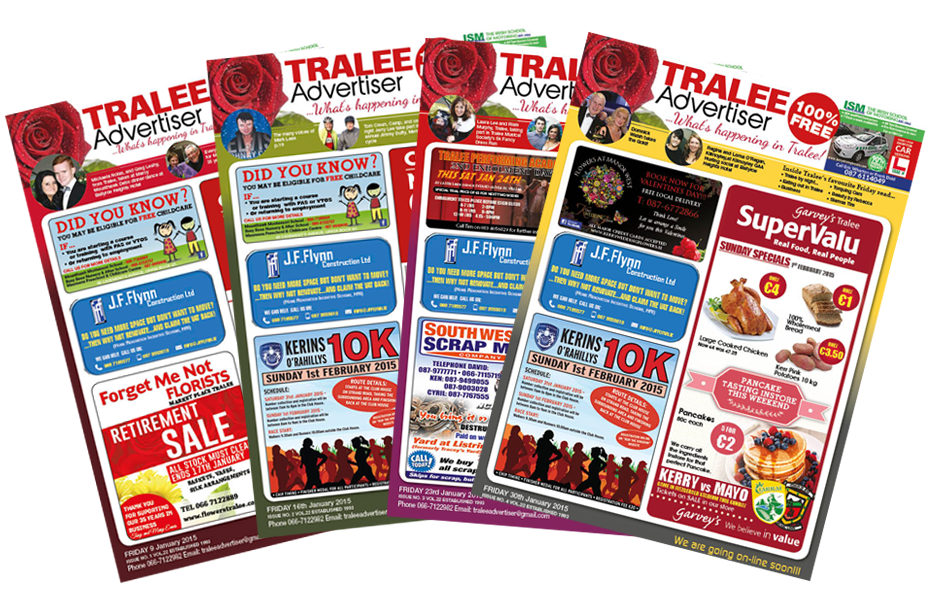 *Tralee Advertiser is a longstanding Freemium publication (22 years in business this year). We took over the publication in October 2013.We now distribute over 7200 copies to the greater Tralee area(up from 3500 since we took it over ) with a readership over 30000 people. It is estimated there are approximately 45-55000 people living within 15 -20km of the Town centre and this is a market that our advertisers are interested in reaching Our printers,graphic designers and contributors are all from the greater Tralee area. We have also more than doubled the size of the magazine from 20 pages to consistently 56+ pages with varied and interesting content for our readers. This helps ensure that The Tralee Advertiser has a shorter shelf life(ie it flies out the door !!) with our various distributors every Friday and a longer shelf life and retention with our readership.(ie people hang onto it to read , read again and use as a reference !)
Our rates for advertising are excellent and only a fraction of mainstream media .
But I would argue that we are more effective!
Campaign rates available. All advertising payments on receive of proof / Invoice
Trade ads from 160 euro – 8 weeks run.
We also have " Quick pay rates" as indicated above that I would be delighted to go through with you.
All adverts are in full colour and prices are ex vat.
As Chris' background is in Marketing and PR consultancy I can also tailor a prominent low cost marketing campaign or discuss "regular advertiser " offers,incorporating features,competitions,photos and advertorials.
We have done this for a number of customers ,all finding it very effective and extremely cost efficient!
We can meet you at a time that's convenient to you and we can discuss further
Regards – Chris & Colette Shortt,
Tralee Advertiser, Lioscarrig Court, Caherslee, Tralee Co. Kerry